The Most Beautiful Places in New York Just off the Beaten Path
Though it tends to live in the shadow of the city's gargantuan skyscrapers, New York state is home to a vast array of beautiful mountain ranges, cascading waterfalls, gardens that rival the best of Europe, and thousands of miles of hiking trails. And while Sheep's Meadow may be a great place to catch up with thousands of your closest friends on a sunny Sunday afternoon, these are some of the most beautiful places in the state that remain a little under the radar.
FELIX LIPOV/SHUTTERSTOCK
Triphammer Falls
Ithaca
While there are plenty of beautiful college campuses in the world, Cornell students have the privilege of passing by a 55-foot cascading waterfall on their way to class. Triphammer Falls, consisting of two drops, is located in the heart of the college's Ithaca campus. Even more picturesque, the base off the falls is accented by an abandoned power station set back against the falls.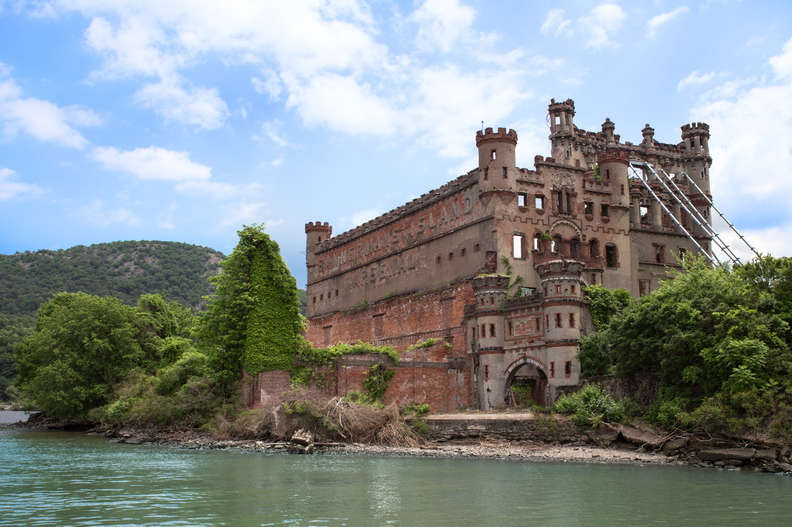 LITTLENY/SHUTTERSTOCK.COM
Bannerman Castle
Pollepel Island/Newburgh
When Brooklynite Francis Bannerman VI's army-surplus business grew too rapidly to be contained in New York City, he did what any entrepreneurial Scottish immigrant would do in the early 1900s; he built a castle on an island in the Hudson to contain the extra inventory, plus a smaller residential castle for comfort. After Bannerman's death in 1918, a gunpowder explosion in 1920, and a handful of other unfortunate events, the castle was left in ruins. Left almost untouched -- except by the hands of time and graffiti artists, the charmingly dilapidated castle is easily accessible from NYC via Metro-North. The Island hosts occasional theatrical events and film screenings, and you can catch a history lesson on weekend walking tours from May through October.
FLICKR/BOUBOU1
Whiteface Mountain Steps
Wilmington
If the ancient steps of the Great Wall of China are a bit out of reach this fall, consider the stone path up Whiteface Mountain Stairway Ridge Trail the Adirondacks' not-so-ancient alternative. Steep and slippery at times, the 0.2-mile man-made path is nearly as photogenic as the natural landscape it's built around. And on a day with heavy, low hanging clouds, your photos might just convince your followers that you've trekked beyond the boundaries of New York State. (Or not.)
FLICKR/KRISTINE PAULUS
Cold Spring
Like a Monet painting come to life, Stonecrop Gardens is the lifeblood of two horticulture-loving New Yorkers who dreamt of sharing their plants with the masses. Since opening to the public in 1992, it's offered guests an immersive experience with nature that dramatically transforms from autumn's muted hues to a kaleidoscope of bright, popping primary colors in the spring and summer.
FLICKR/SELBE LYNN
Ausable Chasm Bridge
Ausable Chasm
Nicknamed the "Grand Canyon of the Adriondacks," Ausable Chasm offers myriad outdoor activities: rafting, rock climbing, tubing, biking, and all of those other nature-y pastimes with cult followings. To get the 'Gram, a sunset photo of the Ausable Chasm Bridge is the way to go, unless you have a waterproof camera to capture action shots in the river below.
HOWARD SUN/SHUTTERSTOCK
Sodus Bay Lighthouse
Sodus Bay
Casting light to the seamen on Lake Ontario, the original Sodus Bay Lighthouse was commissioned by Congress in 1824. After years of deterioration, the lighthouse was replaced in 1871, serving ships and sailors for 80 more years. Now refurbished and transformed into a maritime museum, it's far dreamier than anything Nicholas Sparks could conjure up.
COLIN D. YOUNG/SHUTTERSTOCK
Mt. Colden and Avalanche Lake
North Elba
The Avalanche Pass and Avalanche Lake Trail is a difficult trek best enjoyed by experienced hikers. Adventures on wooden ladders, over bridges, and across ski trails lead to some of the most spectacular views of the Adirondacks. This route is beautiful amid fiery fall foliage, under a blanket of snow during winter months, and flush with greenery during spring and summer. The unobstructed, 360-degree spectacle is worth the effort any time of year.
FLICKR/CHUNG
Giant Ledge
Shandaken
Giant Ledge doesn't crack the top 50 highest points in the Catskills, but this 3.2-mile roundtrip hike is still one of the most popular routes in the region. The trail winds around eight scenic lookout spots and offers five gorgeous ledges with incredible views. It is also home to two lively campgrounds, and even offers the option to continue on another, more advanced trail up Panther Mountain, starting at the first ledge and stretching 2 miles beyond.
FELIX LIPOV/SHUTTERSTOCK
In 1900, George Boldt, then manager of the Waldorf Astoria, began building a six-story castle on Heart Island in the Saint Lawrence River as a lavish gift to his wife. After Mrs. Boldt's death in 1904, the castle was unfinished and left to wither away before being bought and renovated in the '70s. Today it remains in perfect condition, with opulent stained glass windows and a restored Kestrel 1892 steam yacht, and even serves as an official Port of Entry into the United States for guests boating over from Canada.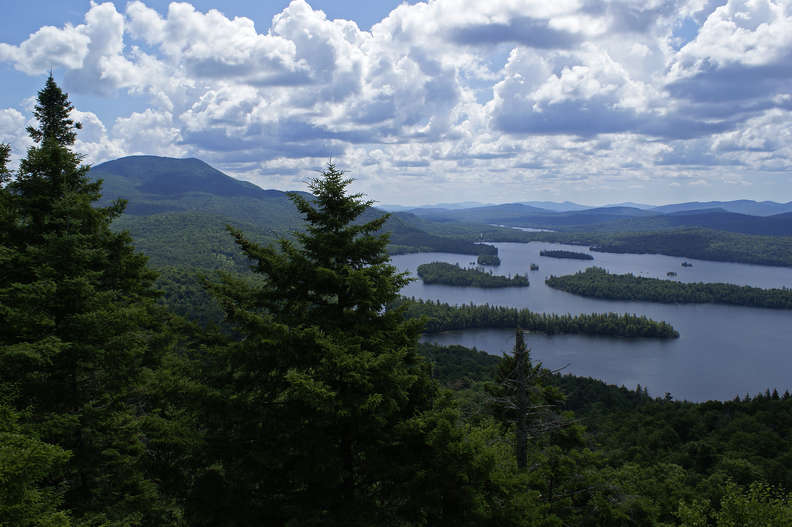 FLICKR/ROY SAPLIN
Castle Rock
Blue Mountain Lake
Everyone knows the world looks better from above, and one of the most beautiful views in New York is found 700 feet up, on the top of Castle Rock. A mostly gentle, mile-and-a-half hike up Castle Rock Trail ends with sweeping views of Blue Mountain Lake and her large, timbered islands. Prepare for gentle slopes until a kick just below the summit.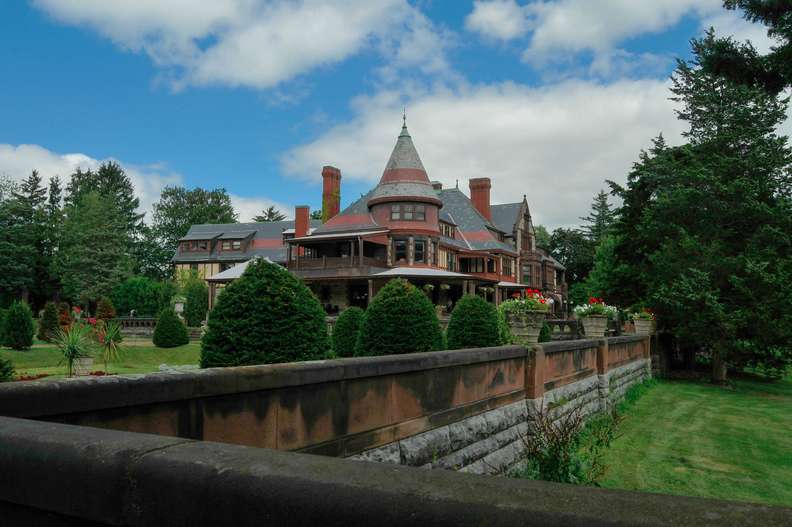 KIMBERLY BURKARD
Sonnenberg Gardens
Canandaigua
Sonnenberg Gardens and Mansion State Historic Park splits the aesthetic difference between Marie Antoinette's Gardens of Versaille and the Queen of Hearts' croquet ground in Alice in Wonderland. The 50-acre estate, open from May until the end of October, is an Instagrammer's dream with bright flowers, historic buildings, moonlight strolls, and, most important, a location smack in the middle of the Finger Lakes wine region.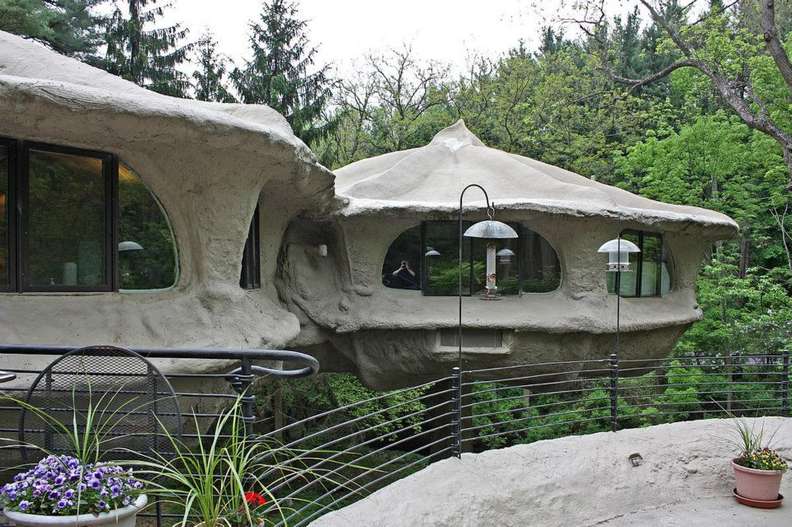 MUSHROOM HOUSE
Mushroom House
Pittsford
Taking the concept of getting back to nature to the nth degree, the Mushroom House was built in the early '70s and designed not after the fungi it so clearly resembles, but rather stalks of Queen Anne's lace. Four connecting pods sprawl across 4,168 square feet and blend into the surrounding woods. Book the three-bedroom, three-bathroom marvel for a weekend and party like Papa Smurf.
FLICKR/KIM CARPENTER
Eternal Flame Falls
Orchard Park
Like most waterfalls, this one located in Erie County's Chestnut Ridge Park consists of, er, falling water -- 30 feet of it, to be exact -- but it's also home to a small grotto behind the cascading water with an active "eternal flame" -- a natural gas spring that's usually burning. Though the flow of the waterfall is subject to the rain and the seasons, the gas from the eternal flame never stops flowing. The trail is an easy 1.2-mile hike, with a steep path leading down to Shale Creek. Once you smell rotten eggs, or catch sight of posing 'grammers, you've found the natural light.
STEVE MELNYKSHUTTERSTOCK
Caumsett State Park
Huntington
Originally built in 1921 as a lavish and self-sufficient English-style estate -- the place had its own electrical supply -- the grounds and its buildings were eventually handed over to the state of New York and transformed into a nature lover's paradise on a peninsula jutting out on the Long Island Sound. Today, at over 1,500 acres, the park offers a diverse variety of activities and experiences: hiking, bird-watching, polo, fishing, and scuba diving with permit.
Source: thrillist.com/lifestyle/new-york/most-beautiful-places-in-new-york